How much does Botox cost?
Botox is priced per unit. On average, each unit costs about $10 to $15. If you receive up to 20 units in your forehead, you could be looking at a total of about $200 to $300 for treatment of horizontal forehead lines.
3-4 months
In general, Botox lasts 3-4 months. There will certainly be patients in which in lasts longer, in that 4-6 month range, or shorter, in that 2-month range. It is also common for first-timers to notice that it may not last as long initially but may last longer after the second treatment.
Who should not get Botox?
People who are pregnant, breastfeeding, or have a neurological disease should not use Botox. Since Botox doesn't work for all wrinkles, you should schedule a consultation with us today!
How to Make Botox Last Longer
Seek A Skilled doctor like Dr. William Lippert.
Engage Facial Muscles Post-Treatment. Immediately after Botox injections, you should take care to move muscles in the treatment area.
Avoid Rubbing Your Face for 24-48 hours After Botox Injections.
Limit Sun Exposure and Photo Damage.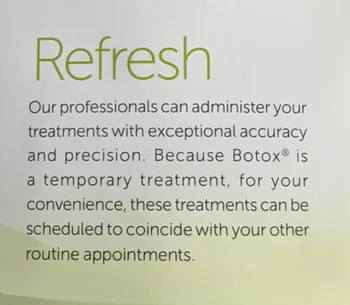 ---
FACTS
Botox treatments only take a few minutes depending on the number of injections needed.
Effects of treatment last for approximately 3 months.
Patients will begin to see results from their treatment with Botox from 3 to 5 days following the procedure.
The use of Botox is very safe however, as with any medical procedure there are possible risk and side effects to be aware of when using Botox.
Botox is used to reduce our eliminate facial wrinkles and facial pain caused by muscles in the head and neck.
Botox is FDA approved for treatment of chronic migraines.